Roll over image to zoom in
Description
2in1 sucking clamp penis pump is intelligent fully automatic sucking male masturbator for men. Increasing hardness and lasting fierce love time. Satisfying her needs and stop being a fast gunner. High-frequency vibration, simulating orgasmic trembling, compact package gives you a true feedback experience. Exercise the penis, scientific exercise, regaining confidence and increasing body stiffness. Masturbation and training in one, harden, thicken, become longer, become durable. Multi-purpose sex toy is 9 frequencies vibration design, so you can adjust different modes with abandon. Detachable design is more easy to store or clean.
Specifications:

Name: Penis pump
Model: SHD-S090-2
Waterproof: Yes
Material: Medical grade silicone+ABS
Vibration Pattern: 9 vibration modes & strong sucking for hand free
Power: Magnetic USB rechargeable
Battery capacity: 650mAh
Charging time: 2.5h
Working time: 1-2.5h
Noise: Less than 55db
Color: Flesh
Size: 325mm*95mm*95mm
Package: In Privacy
Functions: Sucking and clamp, prolong the sex time, improve the hardness, thicken
Special design: detachable, easy to clean and store
Weight: 732g
Features:
【2 In 1 Upgrade-Male Masturbator&Penis Pump】Full new upgrade design, based on some basic functions, it adds a more powerful sucking function. For this toy, you can use it as a penis Vacuum Pump for penis exercise, making your glans and penis to experience deep throat sucking and strong vibration sexual pleasure at the same time.This stimulating and wonderful feeling is hard to reach with human hands, allowing you to enjoy the pleasure of solo play.
【Realistic Silicone and USB Rechargeable 】Eco-friendly Health Silicone material, It is soft and skin-friendly, safe and reliable. Just add a few of lubricant, you can enjoy a sensational climax to the maximum extent. This penis pump is USB Magnetic charging, do not worry about battery problems, it is more easy to use.
【9 Vibration Modes and Suction Technology】Multiple stimulation, giving you a deep throat sucking and unlimited sex pleasure, letting you enjoy more sex excites. Dual stimulation gives you unprecedented sex pleasure. As a penis vacuum pump, it has different suction intensities and tight seal for male Enhancement and Stronger Bigger Erections Exercise.
【Realistic 3D textures and Multifunctional】It can be used not only for Male masturbators toy for dildo massage, but also for a penis pump exerciser for male enhancement. What's more, realistic 3D textures and ribbed tunnels mimic real female vagina, and each fold and texture reappears in ultra-realistic silicone skin material, so when you knead her clitoris and insert the penis into her vagina, Just like there does exist a pretty woman under your body, thus having the feeling of realistic sexual intercourse and orgasm.
【Easy Cleaning and Discreet Packing 】--- When you need clean up the sex toy, just simply pull out the silicone Vagina and take out to wash. 100% discreet package for this masturbator sex toy, we will have unmarked packaging, confidential delivery, without leaving any sensitive words on the package.
Package:
1 x Penis Pump
1 x charge Line
1 x user manual
Customer Reviews
10/06/2020
Oliver Y.
United States
Super fast
Everything ok. And Fast
06/30/2020
Dean M.
United States
authentic
The customer service is in place, the workmanship is also first-class, the material is quite good, the quality is also good, worthy of trust
04/11/2020
Ashton E.
United States
works great
Amazing vibrating and ******* design. I received it just 5 days, and it arrived with two attachments; one is a real flesh-like action and the other attachment snugly provides ******* action. And plus, ***** pump is sleek. it is very easy to use it because there are built-in rechargeable battery, so that you can use it anytime anywhere. Anyway, it is a ideal *** toy to travel with it
04/11/2020
Toby O.
United States
This unit works well
Oh, my god!! I must say that this *** toy is surely amazing!! The vaginal insert they have is very comfortable & feels nice! Now, getting onto the features & how they work, the vibration is pretty nice & feels good but that's not where this device shines. AND PLUS, suction modes is where attract me most!! When I turned on the suction mode, I think I was in heaven! You can even change how much it sucks as well! Combing that with the vibration modes & you'll be blasting off in no time! I definitively like this toy and i always use it with my wife. I recommend to buy and it is worthy buying.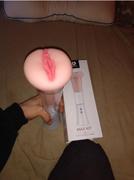 04/05/2020
Jaxon C.
United States
good
good, i will order again
Payment & Security
Payment methods
Your payment information is processed securely. We do not store credit card details nor have access to your credit card information.
---
Security